February 28th, 2022
Dental Sealants: A Shield Against Cavities
[caption id="attachment_37" align="alignnone" width="300"]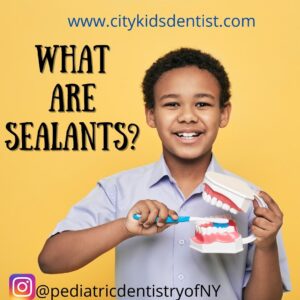 What are Sealants? How do they protect against Cavities?[/caption]
Brushing and flossing daily will allow you to maintain good oral hygiene and avoid the formation of cavities. However, to further diminish the likelihood of tooth decay and the future need for treatments such as crowns and fillings, dentists use sealants. This early cavity prevention technique acts as a protective barrier, shielding enamel (the outer covering of teeth) from acid and plaque, which lead to tooth decay. Now, you may be thinking, "why can't I simply use fluoride instead of sealants to protect my teeth from decay?" While it is true that fluoride protects our enamel from breaking down, it is more effective in reducing smooth surface cavities as opposed to cavities on the pits and fissures of our teeth, where the majority of cavities develop. These deep grooves are much more difficult to clean with a toothbrush, so sealants provide an extra layer of protection in these specific regions to further hinder cavities.
Studies have shown that kids between the ages of 6 and 11 without dental sealants experience three times more cavities in their first molars than do kids with sealants. Other studies have also provided evidence for sealant placement being cost-effective; it improves outcomes and saves money for patients who typically will avoid the need for future invasive treatments related to cavities. Our office has BPA free sealants as we are committed to providing the safest materials available to our patients.
Sealant placement is especially beneficial for patients who are more vulnerable to experiencing cavities. However, the use of sealants in combination with other primary preventive procedures such as fluoride therapy, plaque control, and dietary/sugar monitoring, have positive outcomes for patients overall.